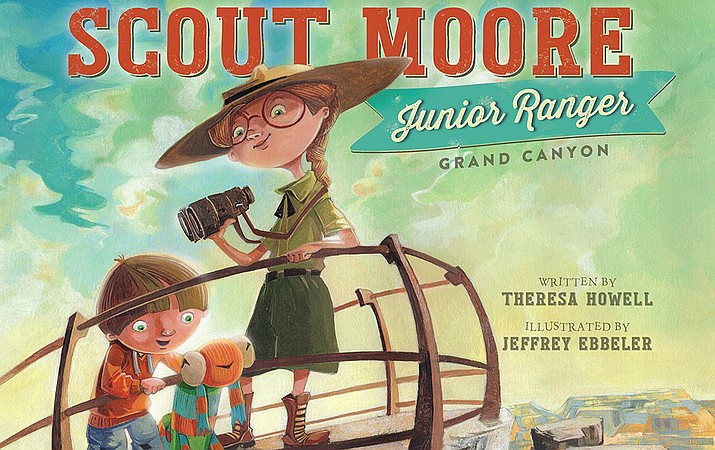 Originally Published: June 12, 2018 10:20 a.m.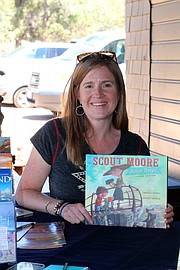 GRAND CANYON, Ariz. — Excitable, bespectacled and ever curious, Scout Moore aspires to be a junior ranger for the National Park Service.
Through the Grand Canyon Association, author Theresa Howell brought Scout Moore to life to highlight the NPS junior ranger program, which teaches children of all ages about the natural and cultural history of the national parks.
The Howell family spent many years hiking and exploring the Grand Canyon while living in Flagstaff, moving to Colorado 10 years ago. Howell said she chose to work with the Grand Canyon Association's publishing program for the Scout Moore series, the first of which takes place within the park.
At a close glance, Scout Moore resembles Howell, with a bright smile and auburn hair to go along with barely contained energy. Moore said she partially modeled the character of Scout after her own nature-loving daughters as well.
"We wanted to come up with a book that highlighted the junior ranger program, to make kids aware of what you can do here at the park," Howell said. "A lot of parents don't know about all the opportunities for education and learning that are available in the park."
Scout is an explorer, a self-proclaimed ranger of her own backyard.
"We wanted to capture the energy of a curious kid who loves the outdoors," Howell said. "She's a spunky little girl who loves to explore."
Scout's parents take her to the Grand Canyon on a family trip, and the highlight of the trip, aside from exploring the park itself, is meeting a real NPS ranger, who offers many learning opportunities and activities through the junior ranger program.
"It's in the spirit of sparking a kid's curiosity and love of nature and the parks early on," Howell said. "You get to see a park through a kid's eyes seeing it for the first time."
The book was illustrated by Jeffrey Ebbler, who lives in Ohio but has traveled to the area many times on vacation. Howell said Ebbler did much of the illustrating through memory and research to bring Scout Moore's vibrant environment to life for young readers.
Howell said Scout is set to star in more books in the coming years, including a book to be released in spring 2019 in which Scout visits more national parks of the Colorado Plateau, including Arches, Mesa Verde, Capital Reef, Bryce Canyon and Zion. Howell will also be working with another publisher to bring Scout to parks like Yellowstone and Yosemite.
"Scout Moore: Junior Ranger" is Howell's second children's book, and her first to be published through the Grand Canyon Association's publishing program, which currently includes about 60 different books, including about a dozen books geared specifically toward children.
More information about "Scout Moore: Junior Ranger" can be found at www.theresahowell.com or https://shop.grandcanyon.org/collections/books-gca-publications. Grand Canyon Association is the official non-profit organization supporting Grand Canyon National Park.
More like this story