Originally Published: March 6, 2018 10:07 a.m.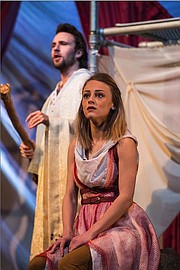 GRAND CANYON, Ariz. — Political intrigue, love and conspiracy play out on a tiny island in the middle of a great storm — conjured by an embittered sorcerer and his army of magical spirits — in one of Shakespeare's most well-known comedies, "The Tempest."
The Utah Shakespeare Festival will once again return to the Shrine of the Ages for a free community performance of the play at 7 p.m. March 8.
Performers will bring the characters of Prospero, Miranda, Ariel and Caliban to life on stage as part of an educational tour the group travels with every spring to 120 schools in Arizona, Colorado, Nevada, Wyoming and Utah. Not only will students be treated to a live performance, they will also be able to participate in theatrical workshops and discussion groups.
The event was sponsored by the Grand Canyon Community Library to benefit local school kids and was made possible through a partnership between GCS, the National Park Service and the National endowment for the Arts.
This is the third year the Utah Shakespeare Festival has performed at Grand Canyon. The theatre troupe has also performed A Midsummer Night's Dream (2017) and Hamlet (2016). The educational outreach program has been touring for almost a quarter of a century.