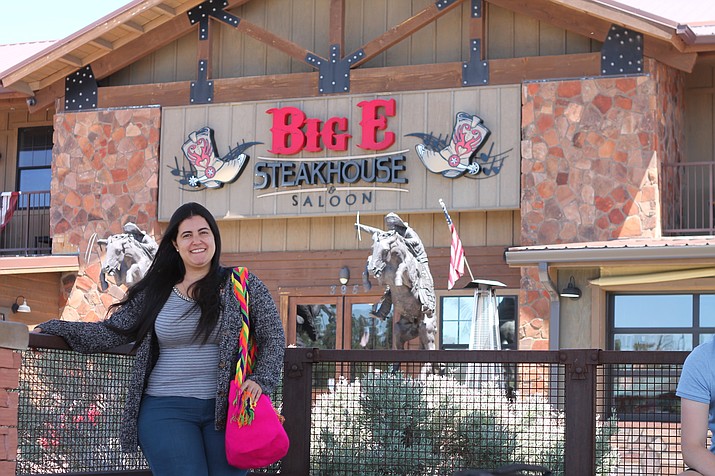 Originally Published: May 15, 2018 10:22 a.m.
TUSAYAN, Ariz. — Journalism, whether print, broadcast or multimedia, may seem universal — people are interviewed, behind-the-scenes magic happens, and stories are told to an increasingly global audience.
But the profession comes with many difference and challenges, and Débora de Carvalho Muniz Barreto — Debbie, for short — is touring the state of Arizona through a Rotary International exchange program to learn the ins and outs of American journalism.
Barreto hails from Aracaju, Brazil, where she attended the Universidade Tiradentes, first for a degree in tourism (hospitality industry), then journalism. She currently works for her state's Department of Education producing a weekly radio show focused on public school students from elementary through high school.
"Whenever a school has an event, like, say, a science fair, I go and talk with the kids to find out what they are learning, what they're doing and how they are helping," Barreto said. "It's way better than staying inside an office. I can go to at least four schools each week and be with the kids. They get so excited (about being on the radio).
"It's important, because some schools are really small, and public schools (in Brazil) are not that great — sometimes the facilities are not good, sometimes they are in a really poor region, so going to school and being part of something is really important for them (the kids), because they feel like they are participating and doing something important."
Barreto said at first she was unsure how the exchange program would work. On the program, she visits a different city and stays with a different Rotary family each week. Barreto said she wasn't sure how she would be able to see everything, learn new things in every location and bond with her host family.
Those questions, however, were quickly answered.
"It's been amazing because I've been able to go to different cities and every family in every city has shown me different things and beautiful places," she said. "I'm in love with this state."
After taking a helicopter tour, Barreto said she cried the first time she saw the Grand Canyon.
I thought I would cry, but then I thought maybe not," she said. But then I got there and I was like, 'oh yeah, I am crying.'"
Describing her experience as a journalist in Brazil at the May 9 Rotary meeting, Barreto said one of the primary differences in how journalism is practiced in Brazil and America is how students learn.
"The way you learn here and the way we learn there (in Brazil) is very different," she said. "When you go to the Cronkite School to study, you learn how to do everything — we can film, we can take photos, we can produce, everything. If I need to go somewhere, I can do everything by myself, I don't need somebody to help me with it."
In contrast, she said, in Brazil, if you need something produced, a different person is employed to do those things. Filming and editing are also done by other people, she said, because journalism schools teach the basics of each component.
"It will be your ideas and what you want, but it will not be you doing it," she said. "It's an opportunity for more people to have a job, but I think (the way it's done) here is way better, because you're not depending on anyone to do something."

Also, Brazilian journalists have to register and receive a license to publish under their own names. Barreto said students can work or do internship, mostly unpaid, but are not allowed to publish under their own by-lines until they graduate and become licensed.
America is seen as the land of opportunity by many, and Barreto said one of the things that impressed her most about the country is the ability to grow and own a successful business without the aid of a college degree. That's something that doesn't happen often in Brazil, she said.
The upside, however, and one of the stickiest points about America, is that a college education in Brazil costs pennies on the dollar compared to American universities.
"A semester at a public university is about $150, so there's less of a reason to not have a college education," she said. "Everyone lives at their own home, so they don't live on a campus. It's very cheap, so there's not really a point in not getting a degree."
Barreto said after touring the campus, she hopes to receive a scholarship to attend the Walter Cronkite School of Journalism and Mass Communication at Arizona State University in Phoenix, where she plans to focus her effort on broadcast journalism.
First, however, she'll have to take the TOEFL — test of English as a foreign language. It's a standardized test that students from other countries must take before being admitted to a university, to ensure they will be able to sufficiently understand and contribute to their classes.
Barreto, who speaks English well, is entirely self-taught. She plans to take the TOEFL so she can receive her scores and plan her next steps. She will continue to tour the state before returning home.