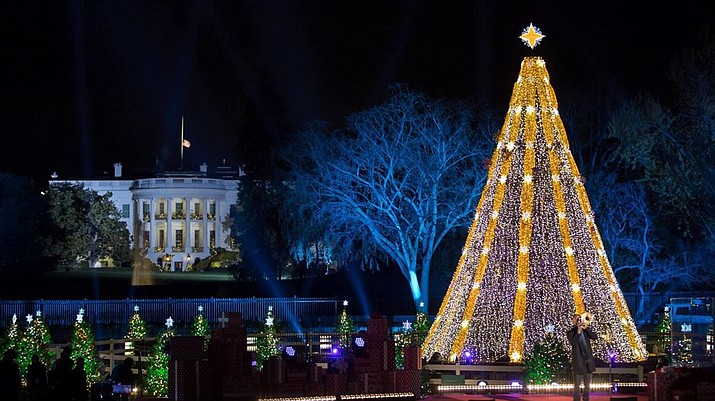 Originally Published: October 30, 2018 10:26 a.m.
Fifty-six schools to create ornaments to accompany National Christmas Tree in Washington, D.C.
WASHINGTON — Fifty-six schools across the country are creating one-of-a-kind ornaments for the 2018 National Christmas Tree experience on the Ellipse in President's Park in Washington, D.C. These handcrafted ornaments will adorn 56 smaller trees that surround the National Christmas Tree. The 56 trees represent each U.S. state, territory and the District of Columbia as part of the America Celebrates display.
The America Celebrates display is one of the highlights of the National Christmas Tree experience, which will begin on November 28 with the 96th Annual National Christmas Tree Lighting Ceremony. Each school will create ornaments that celebrate its state, district or territory.
Lake Mead Visitor Center to undergo accessibility improvements
BOULDER CITY, Nevada — The Lake Mead Visitor Center will receive more than $570,000 in renovations to improve overall accessibility for park visitors and staff. During construction, the visitor center will remain open.
The entry plaza, botanical gardens and nature walkways will be upgraded to comply with current accessibility standards. Grades and widths will be improved along the paths and entry plaza, providing more gradual slopes and wider paths for wheelchairs and strollers.
To provide more shade in the plaza, the existing robusta palms will be replaced with date palms, and new park benches will be added. The demonstration gardens will also undergo fresh landscaping with the support of the park's Native Plant Nursery.
The outer nature walkways will be upgraded with a new stabilized crushed granite walking surface, similar to the surface at the Historic Railroad Trail. At various locations, additional seating will be provided, so visitors can relax and enjoy the surrounding nature and view of Lake Mead.
The irrigation system will be upgraded and modernized, and the drainage system will be expanded and improved.
The construction is expected to occur Mondays-Fridays through February 2019.
Two visitors fall from Taft Point in Yosemite National Park
YOSEMITE NATIONAL PARK — A male and female visitor died in an apparent fall from Taft Point in Yosemite National Park Oct. 26. Yosemite National Park Rangers are recovering the bodies and the incident is under investigation. The identification of the deceased has not yet been determined.
Information provided by NPS.