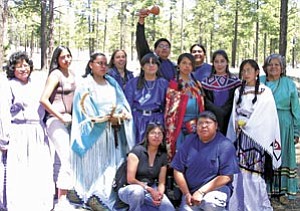 The Hualapai Ethnobotany Project students and staff: Lucille Watahomigie, Phyna Cook, Adina Hunter, Carrie Cannon, Cheyenne Majesty, Dennis Sullivan, Christina Watahomigie, Frank Mapatis, Veronica Lewis, Amy Vaughn, Malinda Powskey, Nikki Poleahla and Colleen Mack. Other staff and students involved but not present in the photo include Delores Honga, Vera Watahoname, Cheryle Beecher, Andrea Zephier, Georgetta Russel, Consuela Bravo and Majenta Powskey.

Stories this photo appears in:

PEACH SPRINGS - Quail, deer, elk, wild onions, prickly pear and other flora and fauna of northern Arizona were common foods among the Hualapai and other tribes of the region.