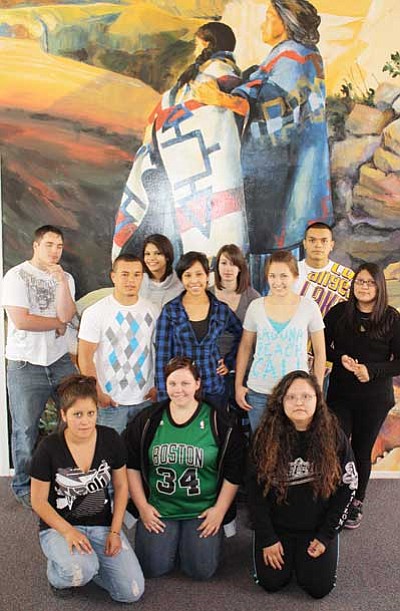 Patrick Whitehurst/WGCN
Pictured are students in Grand Canyon School's graduating senior class as they pose at the Shrine of Ages near the edge of the South Rim. Pictured is Miriam Bankston, Stephanie Begay, Daniel Celis, Keslee Foster, Veronica Garcia, Cuco Jaime, Tiffany Kerr, Tasha Ray, Monique Streit, Marissa Timeche and Erik Vessey.
Stories this photo appears in:

Senior class plans
A number of events were held at Grand Canyon School May 20 to mark the end of another succesful school year for the district. Seniors cooked-up lunch, awards were given out, Earth Day activities, a senior send off, middle school students participated in a poetry slam held in the auditorium, a three-point basketball sontest, a middle school dance and more. Grand Canyon School seniors will graduate Friday at the El Tovar, beginning at 6 p.m.