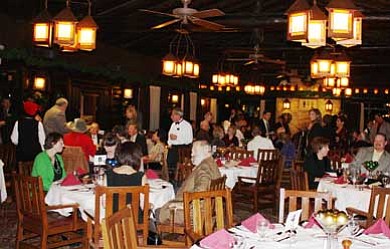 Photo/WGCN
Diners at last year's Rotary fundraiser enjoy the evening. This year, a special menu featuring New Orleans food is planned.
Stories this photo appears in:

Rotary's Holiday Dinner Dance begins at 6 p.m.
GRAND CANYON, Ariz. - Members of Grand Canyon's Rotary on the Rim Club are busy planning this year's Holiday Dinner Dance, an annual tradition. The dinner/dance begins at 6 p.m. Dec. 11 at the El Tovar. This year's theme is "Mardi Gras Fun," in honor of the Rotary International Convention, which will be held in May in New Orleans.Eight members of the local club plan to attend the International Convention, according to co-organizer Dean Norris.