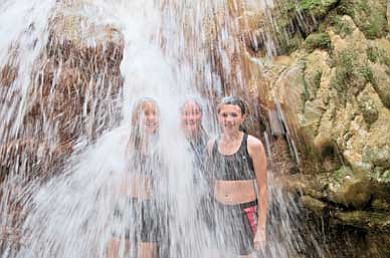 Grand Canyon Youth participants cool off under a waterfall in a side canyon off of the Colorado River during last year'srafting trip.
Stories this photo appears in:

Students to embark on river adventure in April learning about Canyon from a new perspective
GRAND CANYON, Ariz. - When it comes to one of the seven natural wonders of the world, seven Grand Canyon Middle School (GCS) students will no longer be on the outside looking in.From April 28 to May 1, students will have the opportunity to experience life on the Colorado River, through a program run by Grand Canyon Youth (GCY). Based in Flagstaff, GCY offers opportunities to experience the unique river environment while working and interacting with students from other schools. GCY's mission statement, according to their website, is to "provide youth, ages 11 to 19, an experiential education along the rivers and canyons of the Southwest in an effort to promote personal growth, environmental awareness, community involvement, and teamwork among people with diverse backgrounds."