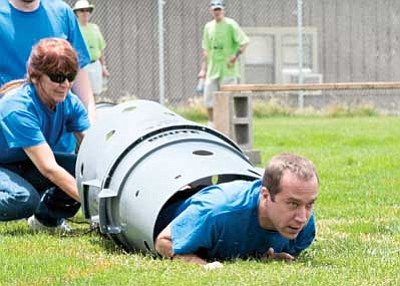 Photos/V. Ronnie Tierney Fresh Focuses PhotographyClockwise from top, Property Assistant Controller Sue Johnson and Director of Environmental Affairs Joel Southall participate in the amoeba race. Rooms Department employee Dwayne Leslie and Lead Guest Service Agent Sommer Silva work together in the obstacle course.
Stories this photo appears in:

Xanterra employees treated to food and games during annual Property Olympics, July 10
An enthusiastic crowd of employees and family attended the annual Xanterra South Rim Property Olympics on July 10 at the Grand Canyon Recreation Center.