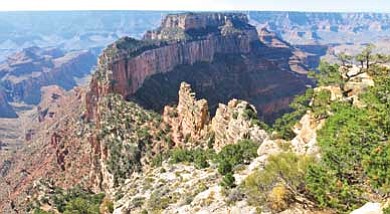 Cape Royal on the North Rim provides a panorama up, down and across the Canyon. With seemingly unlimited vistas to the east and west, it is popular for both sunrise and sunset. The sweeping turn of the Colorado River at Unkar Delta is framed through the natural arch of Angel's Window. Look for the Desert View Watchtower across the canyon on the South Rim. This popular viewpoint is accessible via a paved, level trail.NPS photo by Michael Quinn.
Stories this photo appears in:

North Rim of Grand Canyon offers rustic experience and a glimpse into the park's past
Though a mere 10 to 15 miles separate the South Rim from the North, in terms of atmosphere and lifestyle, the distance is more like 50 years."The North Rim is what national parks were when our parents were kids," said Ranger Jennie Albrinck, who now works on the South Rim but spent many years on the other side. North Rim District Ranger Mark McCutcheon agrees.