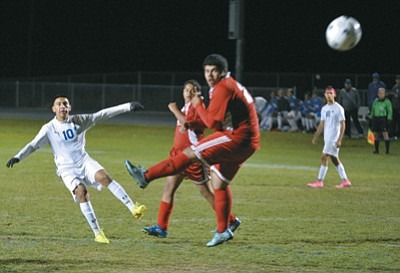 Israel Herrera, a captain for the Phantoms, plays mid-field during the Oct. 22 game against Chino Valley. Matt Hinshaw/Chino Valley Review
Stories this photo appears in:
Phantoms face defending champions Chino Valley Cougars for final game, 17-0 loss for Phantoms
GRAND CANYON, Ariz. - The Grand Canyon Phantoms boys soccer team wrapped up the season Oct. 22, with their last game against the Chino Valley Cougars. The Phantoms walked away with a 17-0 loss.