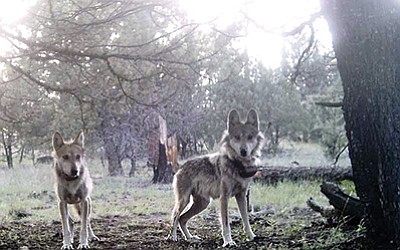 Two Mexican Grey wolves from the Blue Range Wolf Recovery Area during a 2007 project. Photo courtesy of the Mexican Wolf Interagency Field Team, U.S. Fish and Wildlife Service
Stories this photo appears in:

PHOENIX - Two Mexican wolves died during the annual population count and capture operation this year. Both will undergo necropsies at the U.S. Fish and Wildlife Service's Forensics Laboratory in Ashland, Oregon, to determine causes of death for each wolf.