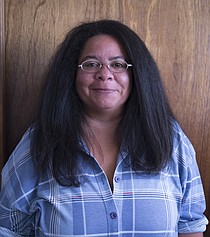 928-226-9696 Extension: 3507
Recent Stories

In 2016, the National Crime Information Center reported that there were 5,712 reports of missing Native women and girls. The U.S. Department of Justice's federal missing persons database logged only 116.

Harry Houdini's great grand-nephew, a long-time resident of the Navajo Nation, has a new program on the Science Channel.

First Native American women elected to U.S. House of Representatives
It was an exciting night for Native Americans and for the Navajo Nation as two Native women were elected to U.S. Congress for the first time ever and as Jonathan Nez was elected to be the next president of the Navajo Nation.

"Öngtupqa" takes inside look at Hopi musical and cultural connection to Desert View Watchtower with new CD and documentary
A trio of musicians with strong connections to the Grand Canyon, have made an acoustic soundscape intended to honor the surrounding landscape through music created on-site at the Desert View Watchtower.

Study finds limited personal experience and negative narratives cement Native stereotypes
When you think of Native Americans, what thoughts or images come to mind? A recent report by Reclaiming Native Truth sheds light on assumptions made about Native Americans, points out the negative challenges of that narrative and sheds light on ways forward "to achieve equity, inclusion and policy changes that will improve the lives of Native families and communities."

House Committee meeting brings no change for future of Navajo Generating Station; still set to close in 2019
The Navajo Nation Navajo Council Speaker and Hopi Tribal Chairman testified before a House Committee on National Resources subcommittee to try and garner congressional support for keeping the Navajo Generating Station (NGS) open beyond 2019.

Native Peoples of the Colorado Plateau exhibit opens April 15 at Museum of Northern Arizona; Native community invited to exclusive, free preview April 14
The Museum of Northern Arizona (MNA) will unveil an expanded and revitalized gallery called Native Peoples of the Colorado Plateau with an exclusive preview for Native people April 14.

Hundreds of Kayenta Mine and Navajo Generating Station workers marched on the Arizona State Capitol Feb. 6 to announce the formation of 'Yes to NGS,' a coalition that advocates for solutions to ensure the continuation of NGS operations beyond 2019.
Rumble on the Mountain IV features local artists, musicians, dancers and speakers highlighting the sacred lands of the Colorado Plateau
Rumble on the Mountain IV, an annual event to raise awareness of the plight of indigenous people and lands of the Colorado Plateau, takes place Jan. 20 at the Coconino Center for the Arts from 2-7 p.m.

Annette McGivney's new book "Pure Land" started with a story she wrote for Backpacker magazine in June 2007 about the murder of Tomomi Hanamure on her 18th birthday, May 8, 2006 by Randy Wescogame, a Hasvasupai tribal member.