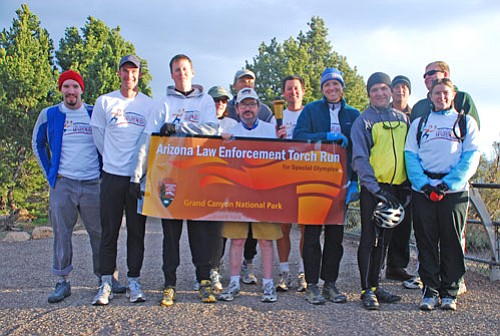 Originally Published: May 12, 2009 9:19 p.m.
GRAND CANYON, Ariz. - Early on the morning of April 28, rangers from Grand Canyon National Park ran six and a half miles to participate in the Law Enforcement Torch Run for Special Olympics of Arizona.
In all, 14 rangers from the Law Enforcement and Interpretation divisions, and local special Olympian Bill Barber (center) came out to walk, run or ride bikes from Mather Point to Tusayan, carrying the Special Olympics torch.
The park, with the help of the Lions Club, was able to raise over $1,000 for the Special Olympic Games which will be held in Arizona later this year.
Grand Canyon National Park rangers participate yearly.