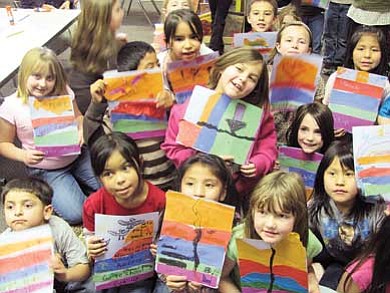 Originally Published: January 18, 2011 2:09 p.m.
GRAND CANYON, Ariz, - Rachel Wilson, December Artist in Residence for Grand Canyon National Park visited Grand Canyon School in December to conduct an art workshop with MaryAnn Garvey's fourth grade class as well as Kelsey Evenson and Jen Marshall's second grade classes.
According to Marshall, Wilson talked with students about the idea of "strata" being layers built from the bottom up (like the strata of rocks in the canyon). They explored this concept through the lens of their day, starting when they woke up in the morning and building up throughout the day.
"The students had one color represent each block of time/activities in their day. They then glued the colored materials down, layering them from the bottom up," Marshall said. "Some students drew or wrote about each 'layer', others drew a 'path' through their day."
The second grade recently completed a six-week unit called Amazing Art. Several artists visited their classroom to show and talk about their art. The artists also took the students on a walking field trip to the Rim to do watercolor painting.
More like this story