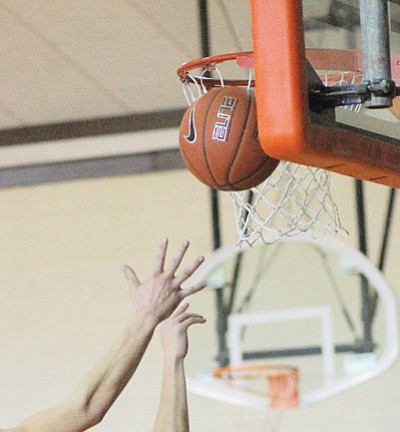 Originally Published: December 24, 2012 10:33 a.m.
GRAND CANYON, Ariz. - The Grand Canyon Phantoms won their fifth straight regular season game Dec. 20, this one over the visiting Rock Point Cougars (4-5) by a score of 83-66.
The Grand Canyon boys basketball squad head into their two-week winter break with a respectable 5-1 record and an Arizona Power Points ranking of first in their section and fourth in state.
"We opened up with a big run and were able to get playing time for all the kids, we had solid contributions from all our players," said David Beery, Grand Canyon head basketball coach. "Our shooters got open on the outside, but they weren't content to sit outside and jack up threes like they have been. They balanced it out more by attacking the rim and driving to the basket, and then they did hit shots when people didn't come out at them."
Joey Bankston, a 6-5 junior forward, finished with 35 points on 15 for 22 shooting and 12 rebounds. Beery said he was extremely pleased with Bankston's efficiency. Junior point guard Justin Jarrell added 20 points on 2 for 4 three-point shooting and 8 for 14 free throw shooting. Ethan Berry shot 50 percent from the field and contributed 16 points and 8 rebounds as well.
"We seem to have come together as a team, we're really starting to gel," Beery said. "There was a lot of finger pointing early in the season, but they've all seem to put aside their personal stuff and work towards team-oriented goals. We've been pretty unselfish the last few games, we've had guys passing up good shots to get somebody else a great shot."
Beery said the team is starting to consistently get real contributions from all seven to eight players in the usual rotation. That will only add real depth and consistency to the team heading forward.
The Phantoms were able to beat Rock Point without senior guard Loren Talas, who remains academically ineligible. The earliest Talas can return is Jan. 9 against Scottsdale Preparatory Academy, one of the better teams in the state. Beery stressed how important it will be to have a full roster against Scottsdale Prep.
The Phantoms defense came up with 10 steals and five blocks against Rock Point, but Beery said they still need to do a better job protecting the rim, which is something they didn't do well early in the season.
"We seem to get a lot of steals from our half-court defense when we trap and effectively use our quick hands, but that aggressive style can tire our guys out so it's not something we run all the time or for very long," said Beery. "But it's a good change of pace and allows us the opportunity to get some turnovers."
This style of high-risk, high-reward defense is not only effective if done properly, but intimidating as well.
Beery also commented on the play of one of his captains, senior Luke Streit.
"Every game he [Streit] contributes so much and it doesn't necessarily always show up on the scoreboard," Beery said. "He makes so many plays that don't show up on the stat sheet. He calms guys down, he's such a great leader, good talker defensively, good passer, and a good rebounder."
Streit finished the game against Rock Point with seven points, six assists, four steals, three rebounds and a blocked shot. With Streit's consistent hustle and on-court leadership, he tends to show up a little bit in every stat column.
During the two-week winter break Beery said the team needs to work on the execution of some of their set plays, and also give some guys that are banged up some time to heal.
The Phantoms next game is Jan. 3 at home against the Seligman Antelopes at 6 p.m., the first of three straight games in three days for Grand Canyon.
In other Grand Canyon basketball news, the Grand Canyon Lady Phantoms (4-2) saw their four-game regular season win streak come to an end on Dec. 20 against the visiting Rock Point Cougars. The Lady Phantoms lost 51-31 to Rock Point.
The next time the Lady Phantoms take the court is Jan. 3 at home against the Seligman Antelopes at 4:30 p.m., the first of three games in three days for the girls baske