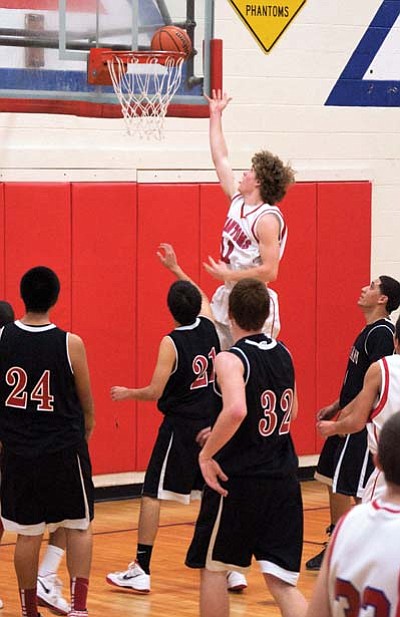 Originally Published: January 31, 2012 2:51 p.m.
GRAND CANYON, Ariz. - The Grand Canyon Phantoms halted a three-game losing streak Jan. 27, defeating the Fredonia Lynx 74-45.
Grand Canyon jumped out to a 28-6 lead after one quarter of play. In his final home game, on homecoming night, senior point guard Jared Ruyle got the Phantoms rolling, dishing out eight assists.
Head Coach David Beery said Ruyle played a crucial role in the win.
"He made sure the team executed on the offensive end and kept their focus," Beery said.
The Phantoms had five players in double figures led by Christian Knight and Justin Jarrell with 18 points apiece. Knight went five for eight from behind the three-point line, while Jarrell was a perfect four for four past the three point line and seven for seven from the field overall.
Joey Bankston, Loren Talas and Luke Streit each chipped in 11 points with Bankston adding 12 rebounds.
Sophomore and homecoming Duke, Ethan Berry flipped over a Fredonia player in the second quarter and had to be helped off the court and taken away in an ambulance.
On Saturday, the Grand Canyon boys basketball team defeated Ash Fork on the road 52-42. The Phantoms scored just 32 points through three quarters, but still led 32-24. The Phantoms shot just 4-17 free throws in the first three quarters, but a 10-13 effort from the line in the fourth quarter helped them preserve their lead. Christian Knight led all scorers with 15 points despite struggling on 4-17 shooting. Jared Ruyle added 11, while Loren Talas scored nine points.
"This was a good win, because usually when we struggle with our outside shot, we lose the game," Beery said. "This time the boys adjusted and looked to penetrate more and get to the basket or draw a foul. Jared (Ruyle) and Loren (Talas) both used their quickness to get into the lane and create problems for their defense. Christian (Knight) didn't shoot like he's used to, but showed his all-around game by guarding (Julio) Cohen most of the game and hitting big free throws in the fourth quarter."
The weekend wins improved the Phantoms record to 11-6 in Power Ranking games this season. They finish the regular season against Grey Hills away Friday.