Lady Phantoms end season on positive note
Originally Published: February 9, 2016 11:35 a.m.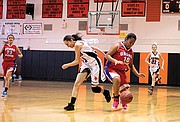 GRAND CANYON, Ariz. - The Lady Vikings are celebrating the end of the season after winning, their final game Feb. 5 against Shonto Prep 50 - 26.
The Lady Phantoms were not sure how the season would wrap up after head coach Jeff King discovered the team was one game short of having a shot at regional playoffs.
"We only had 13 games scheduled and we were supposed to have 14 to qualify," King said. "So we contacted (Williams) last week and they said, 'sure, bring the girls.'"
The Phantoms were able to arrange a game against Williams, Feb. 3 which gave them a chance to qualify.
Although the girls didn't end up making the playoffs they were grateful for the chance to compete for it.
With only one game in December and 13 games in January and February, it has been a challenging season for the Phantoms. In spite of tight scheduling, not enough games for the Lady Phantoms and going up against some tough teams, the Lady Phantoms played hard and faced the challenges head on.
"The games have been lopsided, some good, some bad," he said. "We've lost some hard games to competitive teams."
King said with coaching both boys and girls varsity it has been an exhausting season.
"We had four games in one week and three games in another, I told him (former athletic director Javier Abrego), 'you're going to kill my girls and you're going to kill me because I'm coaching the boys and girls,'" he said. "So I was super tired from that."
Cyndi Moreno stepped in as athletic director after Abrego left in January.
After winning the Feb. 3 game against Williams, King was hopeful the Lady Phantoms would make it to regionals.
"The top four teams are there - we're in fifth place," he said after the game. "We could go, there's a 25 percent chance. If we win the next two games and if the other team ahead of us loses their next two games it's a possibility we could go."
Looking forward to next year's season, King said he believes the girls will be starting with a young team since seven of his players this year are graduating seniors.
"I look at it like this is going to be my team next year," he said. 'They've all improved drastically. My underclassmen are getting better and my seniors are pushing the girls to get them better because they know that this is their last year. Next year I'm only going to have like two seniors."
More like this story
SUBMIT FEEDBACK
Click Below to: