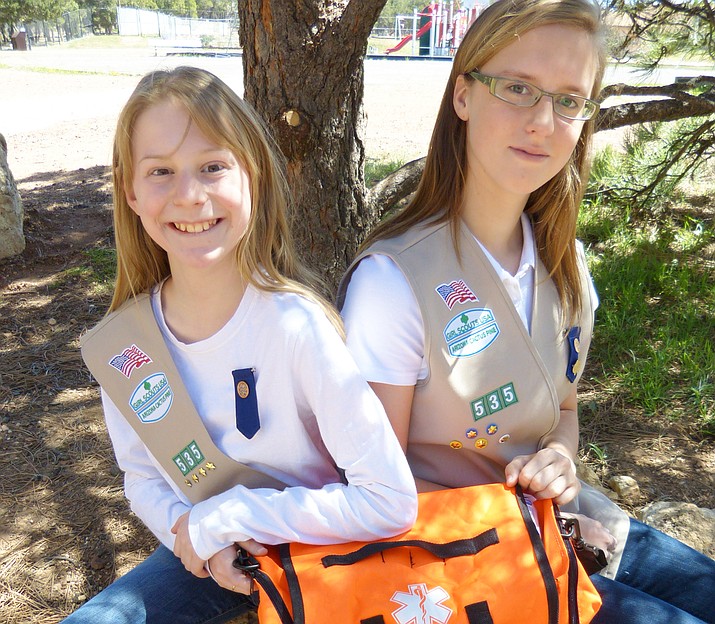 Originally Published: April 18, 2017 11:43 a.m.
GRAND CANYON, Ariz. — Two Girl Scouts from Grand Canyon's Girl Scout troop recently received high awards for self-organized community action projects.
The Girl Scout organization offers girls worldwide the opportunity to pursue bronze, silver and gold awards. The bronze award is for fourth and fifth grade girls, the silver award is for middle school girls, and the gold award is for high school girls. In order to receive these awards, the girls research an issue in their community and work toward creating and organizing a solution to that issue. This involves many hours of hard work, dedication and passion.
Alana Nelson, a sixth grader at Grand Canyon School, recently received the Bronze Award. Originally, she was inspired to make a positive impact at the school by researching the cost of hooks for student backpacks to be placed in the hallway outside the library. This project fell through, however, after much hard work and time. Despite this roadblock, Nelson did not give up. Instead, she decided to make a different improvement to the school library by obtaining new furniture and preparing it for use. This included many hours spent cleaning the furniture and helping to place it where students from Kindergarten through high school would have access to it.
Betsey Sullivan, a ninth grade student at Grand Canyon School, received the Girl Scout's Silver Award. Sullivan's project was inspired by her personal experience when she broke her knee during soccer season. After her injury, Sullivan began to notice the lack of equipment, such as medical bags, available to her during her recovery. In order to make sure future student athletes had better access to medical equipment, Sullivan spent many hours researching the costs and benefits of medical bags for Grand Canyon School's sports teams. Her research included working with Emergency Medical Services staff members, school administrators and athletic directors at Northern Arizona University. When her project proposal was complete, Sullivan approached Grand Canyon School's Board and approved the school's purchase of several medical bags to be kept with the sports teams at practice and at games. Sullivan says her project was extremely beneficial to her.
"I think the project really benefited me by teaching me how to manage time," Sullivan said. "I'm going to be able to use the skills I learned to work on my Gold Award and do well in college."
As Nelson and Sullivan go into High School, they will be eligible to pursue the Gold Award, which is the highest award a Girl Scout can receive. This award is available only to high school students and makes girls eligible for college scholarships. By completing a project for the Gold Award, girls also have the chance to be chosen for the National Young Women of Distinction. This honor is awarded to girls who complete Gold Award projects that show outstanding leadership and have a significant impact on their local or global community. These projects combat local and global issues such as education and income inequality, genetic disorders and global hunger.
Both Nelson and Sullivan spent many hours on their community action projects and, because of their hard work, have left a lasting impact on the community. With their new knowledge and experience, the girls will be able to approach higher awards and continue to make a positive impact on the world.