More than 4,000 visitors celebrate Skywalk's 10th Anniversary

Originally Published: April 18, 2017 11:12 a.m.
GRAND CANYON, Ariz. — Ten years after Grand Canyon West's iconic Skywalk was completed, more than 4,000 visitors and Hualapai tribal members gathered to celebrate its first decade.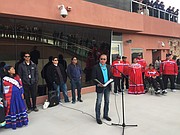 The glass walkway, which weighs approximately 1.2 million pounds and extends 70 feet beyond the rim over the Grand Canyon, offers a jaw-dropping perspective on the Colorado River nearly 4,000 feet below. The project took two years to complete and contains about a million pounds of steel and 83,000 pounds of glass. Its foundations can support about 71 million pounds — that's the equivalent of 71 fully-loaded 747 jetliners.
The Hualapai Tribe — "People of the Tall Pines" — approved the project in 2003. The tribe blessed the site on Oct. 6, 2004. Drilling began a month later and lasted a year and a half. Components of the Skywalk were fabricated in Utah and hauled to the site for assembly. Two and a half years after the groundbreaking ceremony, the completed Skywalk was rolled out in two stages.
The attraction — one of many run by the Hualapai Tribe — has seen about 5 million visitors since it opened to the public March 28, 2007.
"This place and what our people have built is a testament to what happens when a determined group of people have a vision and then they pursue that vision with true commitment and creativity," said Candida Hunter, chairwoman of the Grand Canyon Resort Corporation Board. "I think that vision made real, and our Tribe's success, are absolutely worthy of a big celebration."
The celebration included free tours of the Skywalk and food provided by local restaurants.
"We had about 4,100 tribal members, their families and Mohave County residents join us for the celebration," said Grand Canyon West spokesman David Leibowitz.
In honor of the celebration, Arizona Gov. Doug Ducey issued a proclamation declaring April 8 as Grand Canyon Skywalk Day.
Hunter said Grand Canyon West set a new record for visitors at 1.2 million, the second year it has surpassed the 1 million mark.
"This year, we're striving to do even more," she said. "That's why we just opened the Sa' Nyu Wa restaurant here at Skywalk, and why we continue to expand our customer service and our offerings."
More like this story
SUBMIT FEEDBACK
Click Below to: