Canyon carols: students give tradition a twist
Originally Published: December 5, 2017 10:03 a.m.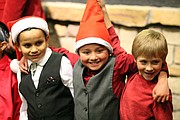 GRAND CANYON, Ariz. — From Brighty the Burro to the 12 unique days of a Grand Canyon Christmas, students at Grand Canyon School sang, played, mimed and entertained a packed house at the Grand Canyon Visitor Center Nov. 30.
The quirky take on holiday cheer is a tradition at the Grand Canyon.
Instead of Frosty the Snowman, children sang about Brighty the Burro and while neither a partridge nor a pear tree are to be found, a raven in a pinyon tree is a mainstay in canyon country.
Fifth graders contributed a special performance to the concert, playing Jingle Bells on recorder.
No Christmas recital would be complete without a sing-a-long, and guests were happy to wish the carolers a Merry Christmas in thanks for the performance.
The young musicians, under the direction of music teacher Bentley Monk, perform holiday and regular concerts throughout the year. The middle and high school bands will be performing twice to give the community a chance to come together and sing along to more traditional Christmas carols.
The first performance takes place Dec. 7 at 7 p.m. in the school's multipurpose room. The second performance takes place at 3 p.m. Dec. 11 in the MPR.
More like this story
SUBMIT FEEDBACK
Click Below to: