Grand Canyon revives river unit under new chain of command
Superintendent addresses Colorado River concerns, triumphs at community meeting

Originally Published: July 18, 2017 9:50 a.m.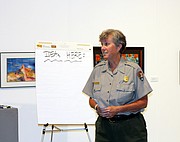 Grand Canyon National Park is reviving its river unit, an action Superintendent Christine Lehnertz said the park has been looking at for several months.
Lehnertz stressed the need for Grand Canyon National Park to resume its own river operations, something it has been contracting out to private companies and individuals in the year and a half since the park's former river unit was dissolved after a sexual harassment scandal.
"We want to provide a positive river experience, not only for private boaters and guests, but also for our employees," she said. "The river unit plays an important role in park operations — it allows our law enforcement rangers to ensure guests' safety and our biologists to perform important research."
At a community meeting July 11, park staff unveiled what the revamped unit might look like. River unit task force leaders Rachel Bennett, environmental protection specialist, and Donna Richardson, chief of interpretation and resource education, stressed a new structure of accountability as one of the main strengths of the program.
Bennett said the new river unit will have a streamlined chain of command under the oversight of the newly-created administrative river operations manager, who reports directly to the superintendent. Bennett said the new chain of command will improve organizational communication and allows park management to become involved more quickly should any issues arise.
Additionally, a new interdisciplinary team from multiple park divisions will be created to provide oversight for river operations. The team will evaluate each river trip for what went well, as well as what needs improvement. If the group finds any concerns, Bennett said, it will be promptly reported to the superintendent.
Bennett also called on members of the river running community to aid the park in providing a safe environment for park employees and guests. The park had a history, she said, of mishandling complaints about seasonal employees, something she said has been addressed in the new draft plan.
"We're outlining a conduct policy in our draft plan," she said. "Nothing is failsafe, but having the support of the river community will help us identify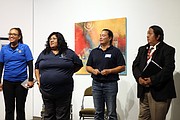 issues and learn."
The conduct policy calls for operators with complaints to be addressed immediately, and fired if the offense warrants.
The team plans to present the river unit operations plan to Lehnertz by mid-August. Lehnertz must approve all changes to the operations plan, along with the National Park Service's regional office in Denver.
Grand Canyon's river unit was dissolved in 2016 after an investigation by the Inspector General revealed ongoing complaints of sexual harassment between park employees on river trips. The Inspector General's office found that although multiple complaints were filed with park supervisors, the complaints were not properly followed up, and employees found to have committed the offenses were not reprimanded or fired. The investigation and resulting dissolution of the river unit led to the retirement of then-superintendent David Uberuaga and an undisclosed reprimand of former deputy superintendent Diane Chalfant.
Along with discussing plans for a revamped river unit, park staff also highlighted other projects involving the Colorado River.
Hualapai Tribal Chairman Damon Clark discussed his tribe's involvement with protecting the river, which flows across the tribe's reservation to the west.
"Our main concerns are not where the boundaries lie, but how people are taking care of the river," he said. "We all want to be outdoors, to experience nature, but when people come down through Colorado River on our side, there is desecration, there are markings and graffiti."
Clark said the tribe has put up signs to delineate where NPS lands end and Hualapai tribal lands begin, but recently, the signs have been taken down. Lehnertz said the park had been working with the Hualapai over the past few weeks and would continue to work with the tribe to ensure conservation of the river.
"You know, the canyon is over 6 million years old, and there's about 12,000 years of human history here," she said. "We're not going to solve this tonight, but we're sure going to keep working on it."
More like this story
SUBMIT FEEDBACK
Click Below to: