Originally Published: March 28, 2017 10:48 a.m.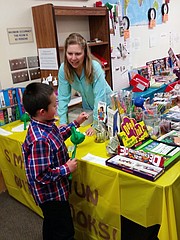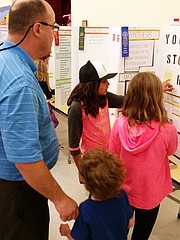 GRAND CANYON, Ariz. — After being postponed because of a power outage, Grand Canyon School's Family Night was a resounding success.
The event featured a book fair, science fair, and Navajo taco fundraiser for a packed house March 22.
The Scholastic Book Fair, hosted in the school library, allowed students and their parents to purchase books and other materials, as well as donate books and learning materials to the library for everyone to use.
In the multipurpose room, students in grades 2-5 proudly displayed their science projects for visitors, covering scientific concepts from battery power to plant growth to the efficiency of common household cleaning products.
To successfully complete the science project, students had to propose a hypothesis, perform an experiment, and document their results. Science teacher Kristin Manning said students competed with others in their own grade level. Students were judged based on the way their experiment was carried out and how thorough they were in documenting their results.
Second grader Raredyn Howard created an experiment to determine the effects of essential oils — organic plant extracts — on petrochemicals, which make up common household objects like plastic cups, balloons and Styrofoam containers.
Howard said she tried various essential oils in her experiment, using the concept of "like dissolves like" — materials with equal numbers of protons and electrons will react with each other, but they won't react with materials that do not have equal numbers (example: oil and water). While the plastic cups were only somewhat affected by the oils, the polystyrene containers had holes dissolved completely through them. Howard explained that this was because the chains of molecules that make up the polystyrene were more spread out, allowing the oil to penetrate and dissolve the material. The balloons, which were made of latex, were unaffected.
"The white orange oil worked the best," she said, noting that melaluca oil came in second, followed by peppermint and oregano.
Manning said she arrived late in the school year and was unable to extend the science fair competition to the middle school. However, they middle schoolers performed their own experiments live in front of the crowd in their "Science Revealed" stage show.
Students also help a Navajo taco fundraiser to benefit the Junior Class, with the students making the fry bread and assembling the tacos for guests themselves.
More like this story