Deadly crash claims four on State Route 64
Originally Published: January 2, 2018 10:02 a.m.
Four people were killed and six people injured, including two children after a head on collision on State Route 64 Dec. 22.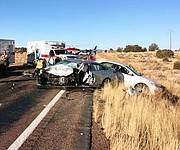 The accident occurred when a northbound Hyundai sedan crossed the yellow line and collided with a southbound van.
A third vehicle was also involved after it attempted to stop and slid into the sedan. No injuries were reported in that vehicle.
The accident occurred at mile marker 207, about halfway between Valle and Red Lake.
According to High Country Fire and Rescue, which was the first emergency personnel on scene, the Hyundai did not appear to be passing when it hit the oncoming van and both vehicles appeared to be going the speed limit at the time of the accident.
"It looks like everyone was doing 65-70 mph probably," said High Country Fire Chief Robert Trotter. "Listening to some of the witness statements, it appears that for some unknown reason the Hyundai drifted over into the southbound lane. It was not attempting to pass, it just drifted over. It was a head on collision."
The Hyundai was a rental car with four occupants, all from Singapore. The driver and left rear passenger were killed on impact. The other passengers sustained critical injuries, another passenger succumbed to their injuries at the scene.
The occupants of the van were all from Spain. The driver was killed on impact.
Three individuals were flown to Flagstaff Medical Center (FMC) with critical traumatic injuries. Two children and another adult were transported by Life Line Ambulance and Guardian Medical Transport to FMC.
Trotter said three of the individuals had to be extricated from their vehicle.
"It was probably one of the worst accidents I've seen," he said.
Coconino Medical Examiner responded to transport the four adults who perished in the accident. The accident occurred at 2:42 p.m. The Arizona Department of Public Safety (DPS) closed S.R. 64 for more than six hours, re-opening it around 9 p.m. that evening.
"We had to wait for the Coconino County Medical Examiner to respond and claim the deceased," Trotter said.
Sherwood Forest Fire Department assisted at the scene. Life Line Ambulance, Guardian Ground Transport, Tusayan Fire Department, DPS and Coconino County Sheriff deputies also responded. Four Guardian Air helicopters were also used to transport those injured in the accident.
State Route 64 safety
State Route 64 is one of two state highways that access the South Rim of the Grand Canyon. More than 5 million people visit the South Rim annually.
According to Trotter, some of the most common causes for accidents on S.R. 64 can be attributed to speeding, vehicles trying to pass slower traffic when it is unsafe and drowsy drivers.
"It's a two lane highway, north and south bound, the issue with most accidents is people driving too fast and being in too much of a rush to get to the Canyon or get home," Trotter said. "If people would maintain the proper speed limit and condition for the roadway and be alert — don't drive fatigued, that would help a lot."

Trotter said accidents involve both tourists and locals.
"We do have 4-5 million tourists that go up to the South Rim every year, a lot of them are from other countries and that could play a factor, (but) I couldn't tell you if it did or not," he said. "We have a lot of accidents involving people from other countries, but we also have locals that are involved in accidents. The numbers kind of equal out as far as who is involved in accidents out here."
More like this story
SUBMIT FEEDBACK
Click Below to: