Hermit Road open to private vehicles, allowing visitors a unique trip to the rim
Originally Published: January 2, 2018 10:31 a.m.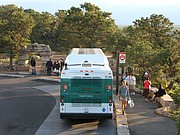 GRAND CANYON, Ariz. — The western expanse of the Grand Canyon's South Rim is incredibly well-traveled, thanks to a free, efficient shuttle system and a very walkable paved Rim Trail. And while the area is hectic and crowded with travelers taking selfies and family photos, winter offers a more secluded opportunity to journey to Mary Colter's signature Hermit's Rest.
Hermit Road is closed to private vehicles during Grand Canyon National Park's peak visiting months — the route is exclusively for the park's shuttle system, which helps cut down on viewpoint crowding, traffic congestion and stress to both natural resources and infrastructure along the route.
But from November through March every year, Hermit Road is open to private vehicles, allowing cold-braving visitors the opportunity to travel to what was once a rest stop for intrepid travelers a century ago.
At the end of Hermit Road lies Hermit's Rest, one of the many Grand Canyon buildings designed by pioneering architect Mary Elizabeth Colter in 1914. The destination was a rest stop for travelers making the bumpy, dusty stagecoach trip to see the Canyon.
Hermit's Rest — a peculiar but beautiful structure that appears at first glance to be clinging for dear life to the edge of the Canyon — could be described as Colter's habit of making her brand new buildings appear old. Colter spent painstaking amounts of time giving her structures an ambience of having weathered many a hard northern Arizona winter.
Like Desert View Watchtower, also designed by Colter and lovingly antiqued by Colter, Hermit's Rest is designed to create an experience. The natural beauty of the Grand Canyon was integral to Colter's designs, and she was a force in creating structures that didn't detract from the outdoors aesthetic. According to historian Henry Karpinski, Colter didn't want Hermit's Rest to be an upscale destination like the El Tovar — she wanted to enhance the secluded nature of the location.
"She said 'you know what? I want it to be of the hill, not on the hill. I want to do something different,'" Karpinski said. "She's taking you to another world."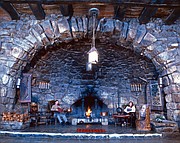 Looking around Hermit's Rest, Colter's attention to detail becomes evident. The fireplace that dominates the whole structure has a centuries-old feel to it — smooth, uneven stones, colored permanently by the soot from a constantly-burning fire and big enough to warm an entire party of mountaineers or roast a whole deer.
Karpinski said Colter even went so far as to draw each and every individual paving stone into a poured concrete floor.
Standing on the walkway — a few feet separating the building from the plunging canyon below — it's clear that Colter created the feeling of a solitary man, living off of the land in what was then a desolate place. It's easy to take in the surroundings and envision a grizzled pioneer stepping out to hunt for his dinner, the fire still burning in the grand fireplace.
Even though the structure now houses a gift shop, snack bar and far more people than a lonely hermit, solitude is not relegated to a bygone era here. Although it has its share of visitors, Hermit's Rest is more of a destination for hikers and historians than casual Canyon-goers. It serves as the trailhead for the Hermit Trail — far more difficult and unmaintained and more accessible Bright Angel and South Kaibab Trails.
The wilderness around Hermit's Rest is devoid of the bustle of Grand Canyon Village and even Desert View, which lies nearly 50 miles in the other direction. Aside from the small parking lot, visitors are instantly thrust into the pines, precariously close to the rim. It allows for a bit of privacy, even during the busy summer months. In the winter, considerably more so.
Hermit's Rest was built as a gateway to the Grand Canyon as it once was, and it remains so today, thanks to Mary Colter's dedication to creating an experience, not just a destination.
More like this story
SUBMIT FEEDBACK
Click Below to: