Originally Published: January 9, 2018 10:34 a.m.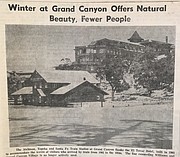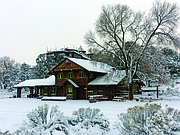 WILLIAMS, Ariz. — From year to year winter weather at Grand Canyon is unpredictable — on Dec. 25, 2016 the South Rim of Grand Canyon and the nearby community of Tusayan received 6-7 inches of snow. Christmas Day, 2017, the South Rim recorded a high of 54 degrees with sunshine throughout the week.
The Jan. 27, 1977 edition of the Williams-Grand Canyon News reported a six inch snowstorm on the South Rim.
'While the snow adds to the natural beauty of this natural wonder, it should not deter visitors from visiting the Park during the winter months since a variety of activities are available in Grand Canyon Village year-round,' the News reported.
Not much has changed in the last 40 years, Grand Canyon Village and Tusayan continue to offer a full spectrum of winter activities.
Activities in the Park during the winter months include hiking into the Canyon by a variety of trails, mule rides to Phantom Ranch at the bottom of Grand Canyon where winter daytime temperatures can hover in the 60s, self-guided rim drives to Hermit's Rest and Desert View Watchtower and regular National Park Service programs including a history walk, critter chat, geology breakdown and other scheduled special events.
Additionally, visitors can enjoy fine dining or a casual picnic on the rim of the Canyon. One thing to keep in mind while visiting the Canyon is the North Rim is open seasonally. It closes in early fall and re-opens May 15. Only hikers and cross country skiers are able to enter the North Rim through the winter months with valid backcountry permits.
Winter visitors not only have the benefit of cooler, more moderate temperatures, but also have more elbow room because of fewer tourists.
In Jan. 1957, the News reported an estimated 1,033,404 million visitors to the South Rim in 1956. According to the report, it was the highest in the history of the Park at that time. In 1955, park visitation averaged 891,930 visitors.
"As travel records are concerned, was set in late November, when the 1,000,000 visitor passed through the south entrance. So for the first time, visitation to the park exceeded the one million mark in one year," the News reported.
In 2016, Grand Canyon National Park celebrated its 6 millionth visitor of the year, saying the park had passed a landmark after a steady increase in visitation since 2011.
Since its establishment in 1919, Grand Canyon National Park has received more than 200 million visitors.
As the numbers continue to increase Grand Canyon continues to deliver. Options abound and despite new records set each year, Grand Canyon offers the opportunity for solitude and quiet reflection.
Whether it is a wet winter with a record number of inches of snowfall or days on days of endless sunshine, Grand Canyon retains its natural beauty and remians a Natural Wonder of the World.