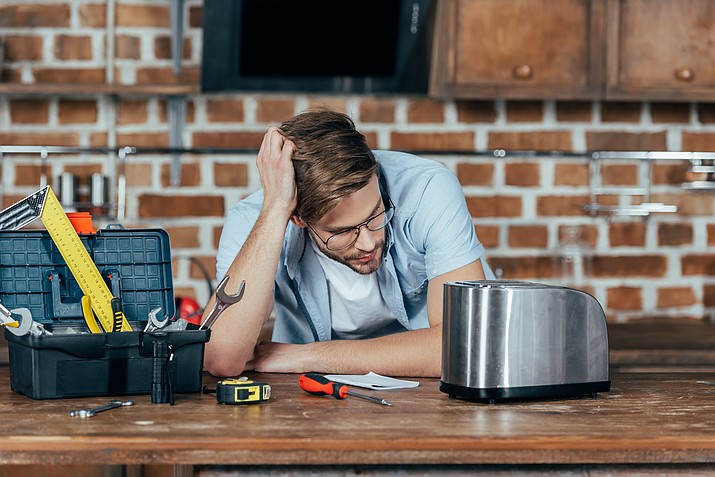 Originally Published: October 9, 2018 10:46 a.m.
GRAND CANYON, Ariz. — Do you have a broken a vacuum cleaner or a pair of jeans that need to be mended?
Then you won't want to miss the Fix it Clinic Oct. 13 from 10-2 p.m. at the Community Building, located just west of the Mule Barn.
The clinic is part of the Fall Sustainability Fair at Grand Canyon and is sponsored by the Grand Canyon Green Team. Events will also include a Drop and Swap and Recycled Art Walk. The Drop and Swap is a free community yard sale that takes place Oct. 12 from 1-4 p.m. and Oct. 13 from 10 a.m. -2 p.m. at the Community Building in Grand Canyon Village. The Recycled Art Walk takes place October 13 between 10 a.m. -2 p.m. at Grand Canyon Visitor Center Plaza.
"We included (the clinic) with the Drop & Swap because there are a lot of people in the community who are looking to donate dishes and clothes and they want it to do it locally rather than taking it to Flagstaff — they wanted to help the local community," said Kaitie Christiansen, Environmental Risk manager for Deleware North.
"We feel like the two events go together well because they both divert waste from the landfill," she added. "We are hoping it's a success."
Lisa Abbott, housing manager for Deleware North said there is a need in park employees for recycled items and a way to have some household goods repair.
"Especially in the park with a lot of our staff they come with nothing and they're scrambling for stuff. So this will have a lot of items for them," she said.
Christiansen said they are hoping the event will become an annual tradition.
"It's our trial time. I think if it's a success we'll try to do another one around Earth Day, which is in April," she said.