U.S. Marines, Master Sgt. Anthony Haechler and Gunnery Sgt. Laura Biggar wait with Santa Claus to fly to Supai village. Loretta Yerian/WGCN
Stories this photo appears in: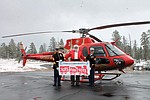 TUSAYAN, Ariz. - For the Supai tribe living at the bottom of the Grand Canyon, Christmas came in the form of G.I. Santa flanked by Marines and volunteers from around Arizona.
By Loretta Yerian
December 23, 2014