Kevin Johns, manager of Big E Steakhouse, Executive Chef Matt McTigue and Sous Chef Mark Otto of the El Tovar put their taste buds to the test during judging of alternative and traditional chilis. Loretta Yerian/WGCN
Stories this photo appears in: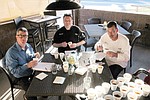 TUSAYAN, Ariz. - "You can call it Captain Brady's chili," said Rotary's new chili champion Brady Harris. "It's mildly spicy with a heat that kind of builds."
By Loretta Yerian
September 29, 2015