Grand Canyon PSAR rangers Ashley Butts and Josh Weiner talk to hikers on the Bright Angel Trail Aug. 12. Loretta Yerian/WGCN
Stories this photo appears in: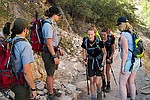 GRAND CANYON, Ariz. - A sign at Grand Canyon, that makes people laugh, reads, 'Going down is optional, coming up is mandatory.'Whether hikers are laughing from nervousness or from doubt in the sign's truth, is up to the individual, but the fact remains - going into one of the world's most well-known Canyons is not to be taken lightly.
By Loretta Yerian
August 16, 2016