Grand Canyon National Park has moved from Level 2 water restrictions to Level 3 following breaks in the Transcanyon Pipeline. The Transcanyon Pipeline supplies water to the South Rim via the North Rim in a mostly underground pipeline system through the Grand Canyon. (Loretta Yerian/WGCN)
Stories this photo appears in: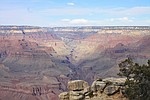 Grand Canyon National Park is modifying Level 3 water restrictions on the South Rim to allow Camper Services to reopen.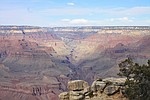 Grand Canyon National Park began phasing to Level 3 water restrictions and conservation measures today after a series of breaks in the Transcanyon Waterline. The park will remain in conservation mode until park staff repairs the break and water in storage tanks reaches sustainable levels.