Family and friends of Isabella "Bella" Grogan-Cannella gather at Bella's Place near Williams to raise a sign in her honor. (Erin Ford/WGCN)
Stories this photo appears in: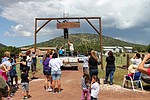 A man accused in the death of a Bullhead City child has yet to stand trial after more than four years, and Mohave County prosecutors are tired of waiting.
By Brandon Messick/Today's News-Herald
November 27, 2018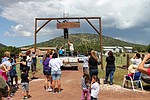 Four years ago, the world handed the family of eight year old Isabella "Bella" Grogan-Cannella a tragedy after she was murdered in September 2014.