Recent Stories
What's the best way to secure a backcountry permit for the Grand Canyon?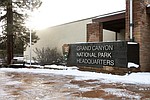 Federal emplyees have not received a paycheck in over a month, including national park employees on the South Rim at Grand Canyon National Park, and this, along with the growing impacts to the park, is starting to weigh on many employees.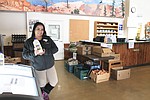 Grand Canyon School (GCS) and other local organizations are doing what they can to make sure the needs are met and students and families are taken care of during this time.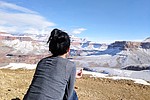 For an entire year, a stuffed scorpion measuring about a foot in length sat on a shelf in the ranger station.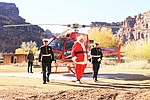 Anya Uqualla, a young Supai mother holds her 2-month-old infant in her arms as she sits on a bench in the village square watching three U.S. Marines and several volunteers make final arrangements for Santa Claus, who will be arriving by helicopter later that morning.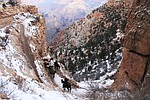 Employees at Phantom Ranch are in the holiday spirit after a Christmas tree was packed into the Canyon by Festus the mule Dec. 4.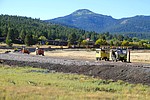 WILLIAMS, Ariz. — Twenty-five privately owned railroad motorcars, known as Speeders, chugged out of the Williams Train Depot Oct. 15 on their way to the Grand Canyon.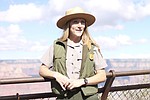 Every day Grand Canyon Park Ranger Sarah Acomb gets to see the Grand Canyon through the eyes of visitors from around the world.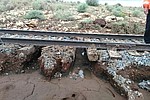 Passengers on the Grand Canyon Railway were forced to make alternative plans following a washout of a portion of the train tracks at milepost 40 heading north to the Grand Canyon.
From year to year winter weather at Grand Canyon is unpredictable — on Dec. 25, 2016 the South Rim of Grand Canyon and the nearby community of Tusayan received 6-7 inches of snow.