V. Ronnie Tierney, Williams-Grand Canyon News
Contributing Writer
Recent Stories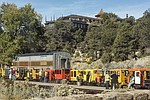 Dedicated to the preservation and safe legal operation of vintage railroad equipment, the North American Railcar Operators Association (NARCOA) made its annual debut to the Grand Canyon Village in late October.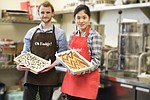 Although the history of fudge is unclear and hotly debated, some say it was developed in the 1880's in America when some bakers "fudged" a batch of caramels.
There's a lot of musical surprises at Grand Canyon Village and four of them are the Boulder Alley Boys who warmed up the Yavapai Tavern outdoor patio last Friday and Saturday nights with a collaboration of rock, blues and country tunes.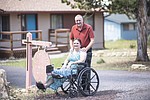 Eighty-one years and 29 pastors later the Grand Canyon Community Church (GCCC) welcomed Rev. Robert "Bob" Beaver and his wife, Cheryl to serve at the South Rim parish.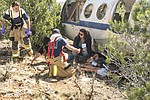 At a glance the simulated disaster scene Aug. 30. at Grand Canyon National Park Airport is alarming, a crashed airplane with bodies spewed about, first responders bustling in hurried motions and emergency vehicles stacked up alongside the runway.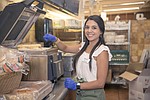 Cara Pelligrini loves keeping current and in her new position as Deli Manager for the Canyon Village Market at Grand Canyon Village, she's doing just that.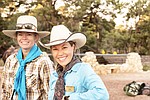 Finding common ground can happen anywhere… even on the trails of the Grand Canyon where wranglers Traci Dolan and Teigan Babcock have found their "long-lost twin."
When planning her family's itinerary for the Grand Canyon, Ireland native Jean Stewart and her family were adamant about finding a local worship service; so she searched online and found Sunset Worship on the Rim by A Christian Ministry in a National Park (ACMNP).
An appetite for fun competition and yummy food was quenched at Xanterra's Annual Property Olympics July 13.